The Master of Arts in Communication Studies provides students with a social scientific approach to the study of human interaction, using both quantitative and qualitative research methods. Our curriculum is designed to explore how communication takes place interpersonally, within organizations and constituents, within our political system, and between and within cultures. All graduate students take courses in communication theory and research methods as well as interpersonal communication, organizational communication, political communication and/or cultural communication. We also offer courses in topic areas such as health communication, leadership, persuasion, nonverbal communication, and new communication technologies.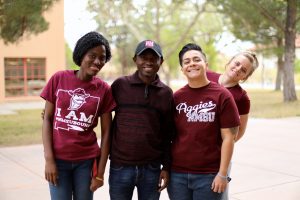 The program offers a wide variety of courses allowing students in the program an opportunity to select topics pursuant to their special interests. In addition to courses, students have the opportunity to obtain practical experience by participating in professional activities offered by the department; for example, graduate teaching assistantships, research, and colloquia.
Degree Requirements
The department offers both thesis and non-thesis options in its Masters of Arts program. Both options call for a minimum of 36 credits, which includes not only Communication courses but courses from outside the department as well. The thesis option requires at least 30 credits of coursework, 3-6 credits of thesis (COMM 599), and an oral defense of the thesis and coursework. The non-thesis option requires 36 credits of coursework, plus a comprehensive written examination (8 hours minimum), followed by an oral defense. Both options require a minimum of 30 credit hours of Communication courses.
Graduate students are required to take COMM 505: Research Methods and COMM 583: Seminar in Theories of Communication their first year of enrollment. These two courses serve as a foundation for other coursework in Communication Studies. Students are also expected to take at least one other core content course their first year of enrollment.
Graduate Degree Forms
Graduate Student Handbook 2017
MA Tracking Form (UPDATED SP19)